-->
In operation today: 1 ski resorts engaging 1 ski lifts of a total length 0 km.
Weather stations:
ΚΑΙΜΑΚΤΣΑΛΑΝ
2090m :2.2c 0.7c 12.9Km/h (23:40)
ΣΕΛΙ
1510m :2.5c -1.2c 12.9Km/h (23:33)
ΠΑΡΝΑΣΣΟΣ
1950m :3.8c 1.5c 20.9Km/h (23:24)
PILIO SKI AREA
Last Update: Fri 09/12/2016 16:11 pilio |
Greek version here!

|
LATEST NEWS: 09/12/2016 16:00
The only ski resort which will be open for skiing during the weekend of 10-11/12/2016
Peilio Ski Center has a total length of 15km ski runs, among which:
? 4 main ski slopes for descent skiing, approved by the International Ski Federation (FIS)
? 1 ski slope of Langlauf of a total length of 5km, with its main characteristic the nature surrounding it.
Send "Snow PIL" at 54344 and you will get the operation information for Pilio ski center.
From 08:10 until 17:00 daily we can receive SMS in order to provide information on the state of operations in the Ski center.
After 17:00 information can be given for the following day.
Snow Report Home
PILIO SKI AREA
CLOSED FOR SKIING
LIFTS
0/5 0 km of total 2.6 km
TRACKS
Sunny

Last snowfall:07/12/16
Snow height at base:40 cm
Snow height at middle:50 cm
Snow height at top:40 cm
Snow quality:Frozen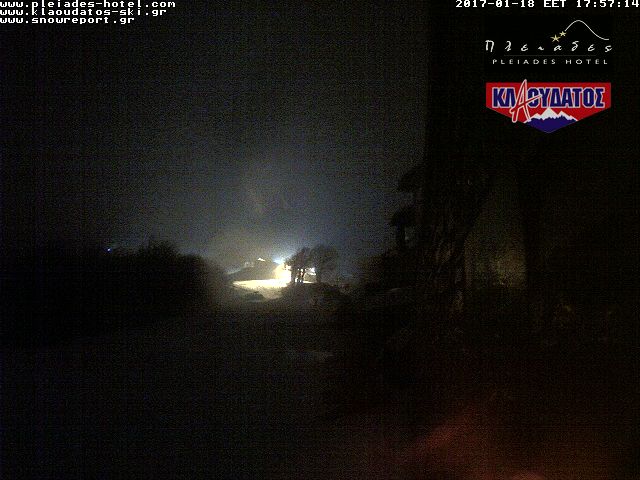 Road:
Open - no chains











OPEN
LIFTS
5/5 2.6 km of total 2.6 km
TRACKS
Road:
Open - no chains