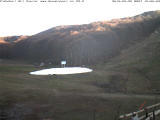 Last update: Wed 14 Feb 2007
Past recent snowfalls at Parnassos Ski Resort, the quantity of snow is good enough for the operation of all Kelaria lifts expect Odisseas.
At Kalavrita Ski Resort, the center will open this weekend for the first time this season. The snow height at the parking area is about 20cm and at the base of Styga about 50 cm.
Karpenissi ski resort also in a good snow condition ready to operate this weekend.
In the north, currently Kaimaktsalan and Vasilitsa are in better snow condition.

This Saturday we organise 14/2 SNOW REPORT MASKE PARTY at Bansko Bulgaria at Club TAMPLIER. Join us if you happen to be there!

23/24/25 Feb - AH3 KALAVRITA WEEKEND with optional ski-ing...
Are you worried about looking stupid on the slopes cos you can't ski and seem to spend most of your time on your back being run over by those hip skiers and snowboarders who look so coooool with their grungy outfits racing down the slopes at 4879 ks per hour???
DON'T WORRY = because there are lots of things to see up in Kalavrita and, since hashers will have their own transport... more here

We would like to inform you that Snow News in English Version is updated once a week, on Thursday, just before the weeeknd. Last update date and time is the date and time of the last Snow News in Greek.

The Snowy Side of Greece an article written by Angelike Contis. Click here!

Two plastic slopes for ski/snowboard and snowtubes are set at Politses ski resort in Metsovo. The slopes are 270 and 100 meters long respectively. The ski/snowboard slope is 12 meters wide and the ascend is being accomplished via the middle lift, at the left you can see a recent photo where the plastic is getting placed on the artificial grass by an Italian workshop.

10 years Snow Reporting! Thank you! We continue with the same pace and enthusiasm and we wish that this winter season 2006-2007 will very soon see a lot of snow!
The Snow Report Team
Panos Vatikiotis - Mina Tsipra - Vaso Trachanatzi - Christos Panagopoulos - Nikos Mazarakis



Welcome to a constantly increasing list of Snow Report winter sports partners that are willing to get to know you and offer you their products and services at competitive prices.
Get your "Snow Report Card 2007" and have discounts for Ski Passes at Ski Resorts in Greece, as well as discounts at a number of sport shops, hotels, restaurants and so on.




Along with the card you will receive 2 snowreport.gr stickers size 13x4 cm.
The card is valid from 1/11/2006 till 31/12/2007. Call us at (30)210-3617790 for more info!



Check out the new offers for the Snow Report Card 2006 holders! Snow Report of 22/02/2007