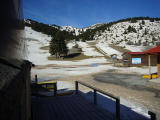 Drop of Temperature and Snowfalls on Tuesday...
Weather
Weekend: Intervals of cloudiness will dominate at all ski resorts which will be increased at Epirus and West Macedonia where there is the possibility for light snowfall over 1300 meters, however no problems will be caused. Wind will be blowing WSW moderate, slightly boosted at Parnassos where it will reach 50-60 km/h. The temperature will slightly increase on Saturday for about 1-2 degrees Celsius while it will remain stable on Sunday.
Clean Monday: Increased cloudiness will dominate at all ski resorts with limited visibility. Snowfalls are expected at all ski resorts especially during noon, but they will be limited over 1500 meters altitude at the North and over 1800 meters at the Central and South due to the South wind which will affect the quality of snow at ski resorts lower in altitude. Winds will be boosted up during the whole day blowing from SSW directions reaching 80-90 km/h while the temperature will remain at high levels. However, starting on Tuesday, the scenery of the weather is about to change as a significant drop of temperature is expected as well as snowfalls even at areas with low altitude at the Central and North.
For Snow Report Nikos Mazarakis Meteorologist

Snow Report Party on Saturday 11th of March at Karpenissi Ski Resort. Night skiing!


More Snow cams are set in operation for this year! Check out snowcam.gr

Two plastic slopes for ski/snowboard and snowtubes are set at Politses ski resort in Metsovo. The slopes are 270 and 100 meters long respectively. The ski/snowboard slope is 12 meters wide and the ascend is being accomplished via the middle lift, at the left you can see a recent photo where the plastic is getting placed on the artificial grass by an Italian workshop.
New offers for the Snow Report Card 2006 holders (click here to see the offers)! Thank you, we continue with the same pace and enthusiasm and we wish that this winter season 2005-2006 will very soon see a lot of snow !
The Snow Report Team
Panos Vatikiotis - Mina Tsipra - Vaso Trachanatzi - Christos Panagopoulos - Nikos Mazarakis


Welcome to a constantly increasing list of Snow Report winter sports partners that are willing to get to know you and offer you their products and services at competitive prices.
Get your "Snow Report Card 2006" and have discounts for Ski Passes at Ski Resorts in Greece, as well as discounts at a number of sport shops, hotels, restaurants and so on.




Along with the card you will receive 2 snowreport.gr stickers size 13x4 cm.
The card is valid from 1/10/2005 till 31/12/2006. Call us at (30)210-3617790 for more info!



Check out the new offers for the Snow Report Card 2006 holders! Snow Report of 04/03/2006