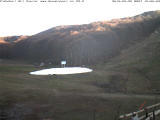 Happy New Year! Bonne Annee!
Parnassos and Kalavrita are in operation more snow is expected coming days. Also Karpenissi management claims for a good quantity and quality of snow. Seli and Pilio has not enough snow to operate.

More Snow cams are set in operation for this year! Check out snowcam.gr

Two plastic slopes for ski/snowboard and snowtubes are set at Politses ski resort in Metsovo. The slopes are 270 and 100 meters long respectively. The ski/snowboard slope is 12 meters wide and the ascend is being accomplished via the middle lift, at the left you can see a recent photo where the plastic is getting placed on the artificial grass by an Italian workshop.
New offers for the Snow Report Card 2006 holders (click here to see the offers)! Thank you, we continue with the same pace and enthusiasm and we wish that this winter season 2005-2006 will very soon see a lot of snow !
The Snow Report Team
Panos Vatikiotis - Mina Tsipra - Vaso Trachanatzi - Christos Panagopoulos - Nikos Mazarakis

Welcome to a constantly increasing list of Snow Report winter sports partners that are willing to get to know you and offer you their products and services at competitive prices.
Get your "Snow Report Card 2006" and have discounts for Ski Passes at Ski Resorts in Greece, as well as discounts at a number of sport shops, hotels, restaurants and so on.




Along with the card you will receive 2 snowreport.gr stickers size 13x4 cm.
The card is valid from 1/10/2005 till 31/12/2006. Call us at (30)210-3617790 for more info!



Check out the new offers for the Snow Report Card 2006 holders! Snow Report of 02/01/2006