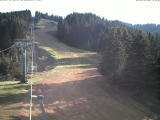 Snow Report Party on Saturday at Kalavrita!
Friday will be a cloudy day with light snowfalls at all the ski resorts of the country. However, the volume of the snowfalls will not cause any particular problems to the access as the phenomena will be fairly light. The wind will blow Southwest light at most of the resort except for Parnassos and Kalavrita where it will reach about 45-50km/h. Due to the South winds, the temperature will rise considerably for about 4-5 degrees CelsiusÚ.
Nikos Mazarakis Meteorologist

Torino 2006 has now began!
Greece is taking part for the sixteenth time with 5 athlets. Between them, Vasilis Dimitriadis(skiing), Magda Kalomoirou(skiing) Lefteris Fafalis(stamina skiing), Stavros Christoforidis(diathlon) and Panagiota Tsakiri, only 16 years old(stamina skiing).



Snow Report Parties! Let' get together!
Kalavrita, Saturday 18th of February, from 9 30 pm! Bar NEVE BLU at Hotel Helmos. There will be a lottery with presents from Klaoudatos stores, Ski Bill, Ski TimeůSki Resorts and the Hotel which will host the Pary! We are expecting you there to have a great night together!

Kaimaktsalan, Saturday 25th February from 15:00! With night skiing, Explosivo music and lots of surprises.
Especially for the Party there will be a Snow Bus that will depart form Athens on Friday 24/2 16:00 with return from Kaimaktsalan on Sunday 26/2 16:00. The Cost for two overnight stays is 170 Euro per person. Bookings: 210-9359384(Palmos Travel) Ski Pass Cost: 9 Euro
Also from Thessaloniki the Explosivo Snow Bus will depart at 7:00 25/2 with return from Kaimaktsalan the same night. Bookings: 2310-488600, 12 Euro per person. Ski Pass Cost: 9 ┼§˝■.

Karpenisi, Saturday 11th March! With night skiing, music, dancing and peresents!

More Snow cams are set in operation for this year! Check out snowcam.gr

Two plastic slopes for ski/snowboard and snowtubes are set at Politses ski resort in Metsovo. The slopes are 270 and 100 meters long respectively. The ski/snowboard slope is 12 meters wide and the ascend is being accomplished via the middle lift, at the left you can see a recent photo where the plastic is getting placed on the artificial grass by an Italian workshop.
New offers for the Snow Report Card 2006 holders (click here to see the offers)! Thank you, we continue with the same pace and enthusiasm and we wish that this winter season 2005-2006 will very soon see a lot of snow !
The Snow Report Team
Panos Vatikiotis - Mina Tsipra - Vaso Trachanatzi - Christos Panagopoulos - Nikos Mazarakis

Welcome to a constantly increasing list of Snow Report winter sports partners that are willing to get to know you and offer you their products and services at competitive prices.
Get your "Snow Report Card 2006" and have discounts for Ski Passes at Ski Resorts in Greece, as well as discounts at a number of sport shops, hotels, restaurants and so on.




Along with the card you will receive 2 snowreport.gr stickers size 13x4 cm.
The card is valid from 1/10/2005 till 31/12/2006. Call us at (30)210-3617790 for more info!



Check out the new offers for the Snow Report Card 2006 holders! Snow Report of 17/02/2006