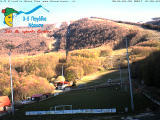 A new wave of snow is coming soon. Torino 2006 is about to begin!

An outstanding show that will keep two billion spectators glued to the screen: on February 10, 2006 starting at 9 pm on ET1, the strong emotion of the Opening Ceremonies of the Torino 2006 XX Olympic Winter Games at the Stadio Olimpico.
The values of brotherhood and dialogue will be represented by the athletes who will parade with their flags and colours, while Italian style and creativity will shine using unique stage designs, mass choreography, extraordinary light shows and a memorable soundtrack.
Greece is taking part for the sixteenth time with 5 athlets. Between them, Vasilis Dimitriadis(skiing), Magda Kalomoirou(skiing) Lefteris Fafalis(stamina skiing), Stavros Christoforidis(diathlon) and Panagiota Tsakiri, only 16 years old(stamina skiing).

Snow Report Forum meeting at the Snow Hawk Chalet of Mainalo ski resort this Saturday 4/01 at 11 a.m. We are waiting for you!
Weather:
Sunday:Important change of the weather conditions is expected on Sunday at all the ski resorts of the country. Heavy snowfalls are expected in the morning at Epirus, the phenomena will quickly turn to the East. Snow heights are expected to reach even 1m high at Epirus. Light south wind will dominate during the morning hours, however, at noon it will turn from to NNE and will be busted up at about 34-40 knots during the night. The temperature will drop in the Northern Greece from noon and on.
A new wave of snow! According to the last records staring on Monday morning the temperature will vertically drop for about 11 degrees Celsius and stormy winds will dominate in the North and Central Aegean Sea. Heavy snowfall is expected even in the mainland of North and Central Greece and on Tuesday even in the mainland at Sterea and Sporades. The phenomena will not last long however frost will remain for a while and that will keep the temperature very low.

More Snow cams are set in operation for this year! Check out snowcam.gr

Two plastic slopes for ski/snowboard and snowtubes are set at Politses ski resort in Metsovo. The slopes are 270 and 100 meters long respectively. The ski/snowboard slope is 12 meters wide and the ascend is being accomplished via the middle lift, at the left you can see a recent photo where the plastic is getting placed on the artificial grass by an Italian workshop.
New offers for the Snow Report Card 2006 holders (click here to see the offers)! Thank you, we continue with the same pace and enthusiasm and we wish that this winter season 2005-2006 will very soon see a lot of snow !
The Snow Report Team
Panos Vatikiotis - Mina Tsipra - Vaso Trachanatzi - Christos Panagopoulos - Nikos Mazarakis

Welcome to a constantly increasing list of Snow Report winter sports partners that are willing to get to know you and offer you their products and services at competitive prices.
Get your "Snow Report Card 2006" and have discounts for Ski Passes at Ski Resorts in Greece, as well as discounts at a number of sport shops, hotels, restaurants and so on.




Along with the card you will receive 2 snowreport.gr stickers size 13x4 cm.
The card is valid from 1/10/2005 till 31/12/2006. Call us at (30)210-3617790 for more info!



Check out the new offers for the Snow Report Card 2006 holders! Snow Report of 05/02/2006