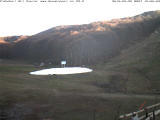 Cloudy weather with North light wind. Five ski resorts in operation.

The following ski resorts are in operation today: Parnassos, Kalavrita, 3-5 Pigadia, Pisoderi and Vasilitsa, Kaimaktsalan is open only for a tour. It will be in operation tomorrow with four lifts and it will be in full operation during the weekend with a lot of snow. Cloudiness is dominating at all ski resorts with the wind blowing from the North. Pisoderi ski resort is in operation with four lifts as it always happens during the weekdays and the snow remains in very good condition till 12:30. The snow at Vasilitsa ski resort is very good and it doesn't get soft however today the resort is in operation with only one lift. Parnassos ski resort is in operation with Tilekabina and four lifts, Kalavrita also with four lifts and 3-5 Pigadia with three lifts and very soft snow due to the high temperature (+10 degrees Celsius). Seli ski resort will remain closed today and it is expected to close soon for the winter season 2005-2006.

Karpenisi, Pilio, Chriso Elafi, Elatochori and Vitsi ski resorts will be in operation in the weekend.

Sunday 9/04/06 will be the last day of operation for Kalavrita ski resort for this winter season, without Styga ski lift due to cut of the power supply by the power supply company.

ďhe lift queues at any of the ski resorts you choose to go to during this seasons are quite short, thus this is the best season to improve your skiing/snowboarding technique. The temperature lies over zero at most of the resorts, causing the snow to melt during the daytime, after noon, substantially reducing the sliding of the skis/snowboards. If it is in liquid form, it freezes over night making it hard in the morning. Therefore we need sharp conches during the morning hours for better control on ice and a good waxing during the afternoon for easier sliding. Skiers should be more careful than Snowboarders when the snow is soft/very soft, because the skis might suddenly stuck and cause them an accident.

Kaimaktsalan is the ski resort which has the best quality of snow during this season due to its high altitude: "The snow gets soft after 13:00 only when the weather is sunny, otherwise it stays in good condition during the whole day". Vasilitsa and Pisoderi ski resorts also have good quality of snow as the icy substratum helps maintain its cold temperature.

Many friends arrived at the Snow Report Party at Karpenisi ski resort on Saturday 01/04 where there was night skiing with music and fireworks.

Two plastic slopes for ski/snowboard and snowtubes are set at Politses ski resort in Metsovo. The slopes are 270 and 100 meters long respectively. The ski/snowboard slope is 12 meters wide and the ascend is being accomplished via the middle lift, at the left you can see a recent photo where the plastic is getting placed on the artificial grass by an Italian workshop.
New offers for the Snow Report Card 2006 holders (click here to see the offers)! Thank you, we continue with the same pace and enthusiasm and we wish that this winter season 2005-2006 will very soon see a lot of snow !
The Snow Report Team
Panos Vatikiotis - Mina Tsipra - Vaso Trachanatzi - Christos Panagopoulos - Nikos Mazarakis


Welcome to a constantly increasing list of Snow Report winter sports partners that are willing to get to know you and offer you their products and services at competitive prices.
Get your "Snow Report Card 2006" and have discounts for Ski Passes at Ski Resorts in Greece, as well as discounts at a number of sport shops, hotels, restaurants and so on.




Along with the card you will receive 2 snowreport.gr stickers size 13x4 cm.
The card is valid from 1/10/2005 till 31/12/2006. Call us at (30)210-3617790 for more info!



Check out the new offers for the Snow Report Card 2006 holders! Snow Report of 16/04/2006