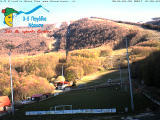 Sunny weather with NW light wind and slight drop of temperature...


Sunny weather is dominating at all ski resorts with light NW wind. Only at Vasilitsa ski resort the wind is blowing NW moderate and the temperature is 0 degrees Celsius. The snow is hard and doesn't get soft. Slight drop of temperature at most of the resort which helps keep the snow quality in good condition for longer. Parnassos -3 degrees, Falakro -2, Kalavrita 0, Kaimaktsalan +1, Pisoderi and Karpenisi +3. Higher temperature at the rest of the resorts (+6 Elatochori) and therefore the snow gets soft at noon. Soft snow doesn't help us develop high speed, however we should be careful as it makes it hard to stop and it is possible that we will cause an accident to a skier/snowboarder who might have fell right in front of us. The good thing about soft snow is that when we fall down it doesn't hurt.



Last Snow Report Party! Let' get together!
Karpenisi ski resort, Saturday 1st of April! With night skiing, music, dance and presents... 1 pair of skis (KOUDOUNAS), 1 ski Jacket (KLAOUDATOS), 1 Nautica Jacket (TSITOURI), free overnight stays from the following hotels: VIRGINIA, AMADRYADES, STUDIO IVISKOS AND NINEMIA RESORT, free ski lift cards from the resort that hosts the pary. Be there at 20:00. Shows with fire torches and lots of surprises on the slopes! We'll be expecting you!





More Snow cams are set in operation for this year! Check out snowcam.gr

Two plastic slopes for ski/snowboard and snowtubes are set at Politses ski resort in Metsovo. The slopes are 270 and 100 meters long respectively. The ski/snowboard slope is 12 meters wide and the ascend is being accomplished via the middle lift, at the left you can see a recent photo where the plastic is getting placed on the artificial grass by an Italian workshop.
New offers for the Snow Report Card 2006 holders (click here to see the offers)! Thank you, we continue with the same pace and enthusiasm and we wish that this winter season 2005-2006 will very soon see a lot of snow !
The Snow Report Team
Panos Vatikiotis - Mina Tsipra - Vaso Trachanatzi - Christos Panagopoulos - Nikos Mazarakis


Welcome to a constantly increasing list of Snow Report winter sports partners that are willing to get to know you and offer you their products and services at competitive prices.
Get your "Snow Report Card 2006" and have discounts for Ski Passes at Ski Resorts in Greece, as well as discounts at a number of sport shops, hotels, restaurants and so on.




Along with the card you will receive 2 snowreport.gr stickers size 13x4 cm.
The card is valid from 1/10/2005 till 31/12/2006. Call us at (30)210-3617790 for more info!



Check out the new offers for the Snow Report Card 2006 holders! Snow Report of 01/03/2006