SNOW-NEWS: Many events and parties are being organised at the ski resorts for this month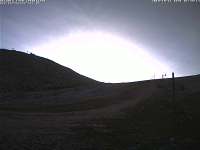 Strong winds are creating problems at the operation of the air lifts at Parnasso ski resort, in case the resort will be in operation later, there will be a discount on the daily ski pass. It is snowing right now at kalavrita ski resort, Artemis lift is in operation, Ermis lift is not in operation due to damage. Strong winds are not allowing the use of the air seat a 3-5 Pigadia as we speak. Difficult weather conditions are currently dominating at Vasilitsa ski resort with snowfall, limited visibility and strong winds. The rest of the ski resorts are in operation.
Remember, always have sun block with you. At Bansko where we are right now, together with another 500+ of Greeks, cloudy weather is dominating and its quite possible that the upper black slopes will be closed due to strong winds, however, tomorrow light winds are expected with intervals of sunshine. Thank you and have fun on the slopes!


WE ARE EXPECTING YOU AT OUR SNOW REPORT PARTY AT ÂÁÍSÊO TONIGHT SUNDAY 13/3 AT "HAPPY END APRES SKI BAR" OPPOSITE TO THE START OF GONDOLA CABINE

Sunday: Increased cloudiness is expected at all ski resorts with intervals of snowfall in Macedonia, Epirus and Central Greece and possibly in Peloponnese... More info here...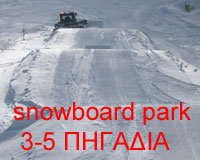 BE CAREFUL NEVER LEAVE YOUR EQUIPMENT UNATTENDED AND NEVER PARK YOUR CAR FAR AWAY OR IN REMOTE AREAS - THERE HAVE BEEN THEFT REPORTS.

CHECK OUT WHAT'S HAPPENING AT THE FOLLOWING SKI RESORTS
3-5 Pigadia: Ski festival Sunday 20th March 2005. For more info here here
Pilio: Enjoy night skiing with lots of music, fun and dancing.
Falakro: Free night skiing on Saturday nights.
Kaimaktsalan: Night skiing on Saturday nights. Take the lifth "Meterizi" and ski or snowboard down run no 8. Begins at 18.00 and ends at 20.00

Snow heights today
Klaoudatos Ski Bus from Athens to Kalavryta, Parnassos and Menalo and from Thessaloniki to Seli and Elatohori.
TZIMAS TRAVEL Ski Bus from Thessaloniki for 3-5 Pigadia daily.
Snow cameras now operating at 3-5 Pigadia, Parnassos, Kalavryta (Helmos), Karpenisi, Pilio, Vasilitsa and Parnitha (Meteocam).
We work on providing you better prices for ski passes, shops, hotels, ski and snowboard rentals. In order to enjoy these discounts you need to acquire the new "Snow Report Card 2005". To view the offers and to buy the card on line enter our E-shop click here
We wish you a snowfull winter time in Greece!
Snow Report in english, E-mail contact: snowreporten@cybex.gr
Karpenisi ski resort: 15th Panhellenic Policemen Skiing Championship on Friday 11th March and Night Skiing-Party on Saturday 12th March.More info here
Vasilitsa ski resort: The Skiing School «Alpiki Zoni» is preparing a Halloween Party with night skiing, lighting of fire, drinks, food, traditional food, tsipouro and lots of music from Djs.
Seli ski resort: On Friday 11th March 2005, the Panhellenic competition SUPER G category AGEN will take place.More info here
Falakro ski resort: Free Night Skiing every Saturday night
Kaimaktsalan ski resort: Night skiing every Saturday night More info here

COME ALONG WITH US TO THE SNOW TRIPS
1. Athens to Bansko every Thursday (there are no sits available for the next two weekends)
2. Clean Monday at Bansko
3. 25th March at Bansko
4. Rafting at Evino river on 16-17 April 2005
5. Easter at Mykonos
In order to participate to these trips you must be a snowreport card holder. To obtain the card and for further information about the trips please contact Snowreport, tel: (210)3617790






SNOW GO ALPS
Plan your holidays to the Alps with Snow Report. Click here

DURING WINTER SEASON THIS PAGE IS VISITED BY 7000 SNOW FANS EVERY DAY!!
If you are interested in advertising your business on the Snow Report site or if you wish to install Web Cams, please contact us via e-mail at snowreport@cybex.gr or by simply phoning 210-3617790.

WHERE ELSE CAN YOU SPOT US?
Teletext ET3 TV channel - Vodafone Live - 4527 SNOW SMS

ISDN Dial Up connection:
Interact with other skiers and snowboarders in english, by sending your comments or questions to Snow Report Forum here

Snow Report of 12/03/2005