SNOW-NEWS: Many events and parties are being organised at the ski resorts for this month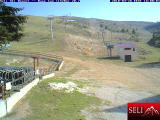 Tomorrow Friday will be a nice sunny day for those who plan to go skiing or snowboarding. Strong winds are expected this weekend. A lot of snow has fallen on Karpenissi Ski resort, clearing of snow is under way, the management finnaly decided to give two lifts in operation later today at 13:00. The Snow Cam at Seli ski resort is in operation since 25/02 refreshing the picture every 15 minutes.

Change of Manager at Parnassos ski resort; Mr. Dimitris Tsarnas is leaving and his position is taken on by Mr. Thanasis Tsaplaris who has extensive experience. We wish Mr. Tsarnas good luck in his new endeavours and all the success to Mr. Tsaplaris.

"Medium to high risk for avalanches (2 degrees out of 5, for skiing off piste), due to the large quantities of snow that have been wind- swept onto the slopes facing in the north direction. All off piste adventurers should be extremely careful especially on slopes of a 40% slant and greater", advises Kostas Economou, responsible at Parnassos ski resort.

Thursday: Gradual weather improvement is expected during the day at all the ski resorts.....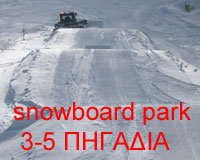 CHECK OUT WHAT'S HAPPENING AT THE FOLLOWING SKI RESORTS
Elatohori: A two-day event, 3rd NORTH SELAS EXTREME GAMES, on Saturday/Sunday 5 & 6 March.
3-5 Pigadia: Ski festival Sunday 20th March 2005. For more info here here
Pilio: Enjoy night skiing with lots of music, fun and dancing.
Falakro: Free night skiing on Saturday nights.
Kaimaktsalan: Night skiing on Saturday nights. Take the lifth "Meterizi" and ski or snowboard down run no 8. Begins at 18.00 and ends at 20.00

Snow heights today
Klaoudatos Ski Bus from Athens to Kalavryta, Parnassos and Menalo and from Thessaloniki to Seli and Elatohori.
TZIMAS TRAVEL Ski Bus from Thessaloniki for 3-5 Pigadia daily.
Snow cameras now operating at 3-5 Pigadia, Parnassos, Kalavryta (Helmos), Karpenisi, Pilio, Vasilitsa and Parnitha (Meteocam).
We work on providing you better prices for ski passes, shops, hotels, ski and snowboard rentals. In order to enjoy these discounts you need to acquire the new "Snow Report Card 2005". To view the offers and to buy the card on line enter our E-shop click here
We wish you a snowfull winter time in Greece!
Snow Report in english, E-mail contact: snowreporten@cybex.gr


SNOW GO ALPS
Plan your holidays to the Alps with Snow Report. Click here

DURING WINTER SEASON THIS PAGE IS VISITED BY 7000 SNOW FANS EVERY DAY!!
If you are interested in advertising your business on the Snow Report site or if you wish to install Web Cams, please contact us via e-mail at snowreport@cybex.gr or by simply phoning 210-3617790.

WHERE ELSE CAN YOU SPOT US?
Teletext ET3 TV channel - Vodafone Live - 4527 SNOW SMS

ISDN Dial Up connection:


Interact with other skiers and snowboarders in english, by sending your comments or questions to Snow Report Forum here

Snow Report of 02/03/2005