Drop of temperature on Monday!!!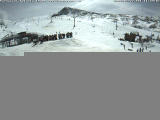 Parnassos and Vasilitsa ski resorts are the only ones still in operation.
Many ski resorts have already closed, others due to lack of snow and others due to lack of people.
Kaimaktsalan ski resort: The ski resort is now closed for the winter season 2004-2005 and wishes you a wonderful Summer.
3-5 Pigadia ski resort The management and personnel of 3-5 Pigadia ski resort thank all those who chose to visit our ski resort during this winter season.
Before we renew our date for the new winter season, we inform you that "Pigadia" apart from the preparation of many and well known football teams also prepare mountaineering and mountain biking excursions as well as international and Panhellenic competitions.
Falakro ski resort The operation period for Falakro ski resort was completed for this winter season. The management of the company, thank all the friend visitors who for another year chose to come to Falakro ski resort for fun and sports and wishes to all a "HAPPY EASTER", personal and family happiness and a "WONDERFUL SUMMER".


Saturday: In the morning the weather will be good at all three ski resorts that are still in operation, however intervals of cloudiness will dominate at noon which will increase at Kaimaktsalan and Vasilitsa and light local rainfalls are possible...
More info about the weather here...

Menalo ski resort:The operation of the SNOW HAWK CHALET continues and will continue until the end of the year with lots of activities, as mountaineering, mountain bike, paint ball, excursions with three wheel bikes, Barbeque and many other things under the responsibility of SAR.CO/G.MANTZAGRIOTIS
For further information please call: 6972326872

Go skiing on weekdays! Less people, lower prices, more descent time!

We inform you that the Snow Report Card 2005 holders, can now have a discount at Parnasso ski resort on weekdays. The price reduces from 12 to 8 euro. The offer will be valid on 24/03/05 untill the end of this season. You should have your identification card with you (driving licence or passport) to show with your Snow Report Card 2005 which will have your name on.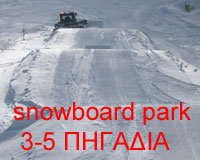 We work on providing you better prices for ski passes, shops, hotels, ski and snowboard rentals. In order to enjoy these discounts you need to acquire the new "Snow Report Card 2005". To view the offers and to buy the card on line enter our E-shop click here
We wish you a snowfull winter time in Greece!
Snow Report in english, E-mail contact: snowreporten@cybex.gr
Vasilitsa ski resort: The 10th Lunafest on the 2nd of April.
Parnassos ski resort: The daily pass is reduced to 15 euro on weekends and national holidays.
Kaimaktsalan ski resort: 10 euro from 12 for the daily pass till the end of the season on weekdays and national holidays, and 7 euro from 9 for the cards with discounts. Night skiing every Saturday

COME ALONG WITH US TO THE SNOW TRIPS
1. Athens to Bansko every Thursday
2. Rafting at Evino river on 16-17 April 2005
3. Easter at Mykonos
In order to participate to these trips you must be a snowreport card holder. To obtain the card and for further information about the trips please contact Snowreport, tel: (210)3617790






SNOW GO ALPS
Plan your holidays to the Alps with Snow Report. Click here

DURING WINTER SEASON THIS PAGE IS VISITED BY 7000 SNOW FANS EVERY DAY!!
If you are interested in advertising your business on the Snow Report site or if you wish to install Web Cams, please contact us via e-mail at snowreport@cybex.gr or by simply phoning 210-3617790.

WHERE ELSE CAN YOU SPOT US?
Teletext ET3 TV channel - Vodafone Live - 4527 SNOW SMS

ISDN Dial Up connection:
Interact with other skiers and snowboarders in english, by sending your comments or questions to Snow Report Forum here

Snow Report of 04/07/2005