SNOW-NEWS: Interesting snow prospects this week...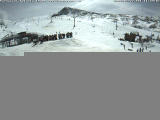 Parnassos ski centre is closed due to strong winds blowing in the area and very limited visibility. At 3-5 Pigadia the only lifts operating are the beginners' pull-up and Paradisos, while at Pisoderi only the two baby lifts are open.
Snowfalls are expected during this week starting from tomorrow Tuesday. Weather forecast: Bad weather will hit the entire country on Tuesday and Wednesday. The temperature will drop by 4-5 degrees on Wednesday, while substantial snowfalls are expected during the day not only on mountains in the north of Greece, but also on Parnassos and Kalavryta, from an altitude of 1400m and above. On Thursday we can expect an even further drop in the temperature by 2- 3 degrees, while more substantial snowfalls will be present on mountain areas of Peloponnisos and Mainland Greece. Nikos Mazarakis, Phycisist -Meteorologist.
Snow heights today
Klaoudatos Ski Bus from Athens to Kalavryta, Parnassos and Menalo and from Thessaloniki to Seli and Elatohori.
TZIMAS TRAVEL Ski Bus from Thessaloniki for 3-5 Pigadia daily.
Snow cameras now operating at 3-5 Pigadia, Parnassos, Kalavryta (Helmos), Karpenisi, Pilio, Vasilitsa and Parnitha (Meteocam).

DAY CARD AT KARPENISI SNOW CENTRE IS AVAILABLE TO SNOW REPORT CARD 2005 HOLDERS AT THE SPECIAL PRICE OF 13.50 EURO WHEN THE NORMAL PRICE IS 18 EURO.
We work on providing you better prices for ski passes, shops, hotels, ski and snowboard rentals. In order to enjoy these discounts you need to acquire the new "Snow Report Card 2005". To view the offers and to buy the card on line enter our E-shop click here

We wish you a snowfull winter time in Greece!
Snow Report in english, Maria-Louise Economou, E-mail contact: snowreporten@cybex.gr Σε λειτουργία είναι οι Snow κάμερες στα 3-5 Πηγάδια, Παρνασσό, Καλαβρύτων(Χελμό), Καρπενησίου, Πηλίου, Βασιλίτσας, Ελατοχωρίου και η Meteocam Πάρνηθα.

"Βραδιά Χιονοδρομίας και Extreme Sports". Δελτίο τύπου και φωτoγραφίες σε υψηλή ανάλυση της εκδήλωσης
Προοπτική για χιονοπτώσεις στο e-kairos.com

ΑΝ ΕΙΣΤΕ ΣΤΟ ΔΡΟΜΟ ΤΟΤΕ ΣΤΟ I-MODE ΕΠΙΛΕΞΤΕ ΕΝΗΜΕΡΩΣΗ ΚΑΙΡΟΣ > SNOW-BEACH REPORT > ΓΥΡΩ ΠΕΡΙΟΧΗ > ΞΕΝΟΔΟΧΕΙΑ!



SNOW GO ALPS
Plan your holidays to the Alps with Snow Report. Click here

DURING WINTER SEASON THIS PAGE IS VISITED BY 7000 SNOW FANS EVERY DAY!!
If you are interested in advertising your business on the Snow Report site or if you wish to install Web Cams, please contact us via e-mail at snowreport@cybex.gr or by simply phoning 210-3617790.

WHERE ELSE CAN YOU SPOT US?
Teletext ET3 TV channel - Vodafone Live - 4527 SNOW SMS

ISDN Dial Up connection:


Interact with other skiers and snowboarders in english, by sending your comments or questions to Snow Report Forum here

Snow Report of 26/12/2004