SNOW-NEWS: Good weather still persisting...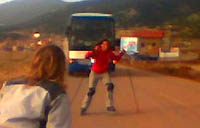 Skiing on asphalt roads is not your most common sport here in Greece, and yet, if you happen to be on Parnassos these days, you can get a glimpse of 30 athletes coming down from the Eptalofos crossroad down to Livadi, a distance of about 10km, on inline skates and batons. These are asphalt skiers - in fact they are students from the Physical Fitness Science and Sports division of the Universtiy of Athens - who are not so interested in snow but moreso in the quality of the road and the technique. Vasilis Yovanis is responsible for this unique and pioneering initiative. Don't miss them if you're there. It's quite a sight and as for stopping?...well they slalom of course!

The rise in the temperature is the main reason why the ski centre 3-5 Pigadia cannot operate with artificial snow this coming weekend. As for Parnassos, well, speculations have it -let's hope it snows-(and weather permitting), that it will be open in the week after the 10th of December.

Live coverage of 3-5 Pigadia ski centre, Parnassos, Helmos, Karpenisi is now possible as cameras there are now fully operational...and of course there's also Parnitha's Meteocam. Very soon, you'll be able to have camera coverage of skiing tracks from Pilion ski centre.


On a different note now! Right in the heart of Karpenisi ski centre, at an altitude of 1.840 metres, there's a very friendly and welcoming shelter, which is open to all adventurous and restless visitors who like to live a dynamic and uncompromising life. The shelter was completely refurbished in 2000 and belongs to the the Hellenic Federation of Mountaineering and Mountain Climbing. Twenty seven visitors can relax in a warm - yes it has central heating - environment with proper showering facilities. For more info, please click here.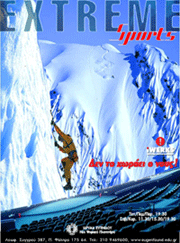 Extreme sports evening event
A unique opportunity to see the movie "Extreme sports" on a gigantic dome screen, the size of two basketball grounds! A real treat for all extreme sports fanatics! Come and admire leading extreme sports champions in a thrilling film of exceptional scenery and music. The greatness of the screen will make you will feel as if you're part of the adventure and that you are in it live.
The Extreme sports event takes place at the i-Max hall in the New Planetarium of the Evgenidio Foundation - Syngrou Ave. 387, Paleo Faliro- on Thursday 9 December at 19:30 (be there around 19:00). There will be a cocktail following the film, where skiers and snowboarders, as well as officials will give their views. The invitation is open to all Snow Report Card holders.The entrance is free but you must reserve a place here. ( It is important to make a reservation in advance as seats for the film are limited to 280 )

We work on providing you better prices for ski passes, shops, hotels, ski and snowboard rentals. In order to enjoy these discounts you need to acquire the new "Snow Report Card 2005". To view the offers and to buy the card on line enter our E-shop click here

We wish you a snowfull winter time in Greece!
Snow Report in english, Mrs Maria-Louise Economou, E-mail contact: snowreporten@cybex.gr


SNOW GO ALPS
Plan your holidays to the Alps with Snow Report. Click here

DURING WINTER SEASON THIS PAGE IS VISITED BY 7000 SNOW FANS EVERY DAY!!
If you are interested in advertising your business on the Snow Report site or if you wish to install Web Cams, please contact us via e-mail at snowreport@cybex.gr or by simply phoning 210-3617790.

WHERE ELSE CAN YOU SPOT US?
Teletext ET3 TV channel - Vodafone Live - 4527 SNOW SMS

ISDN Dial Up connection:


Interact with other skiers and snowboarders in english, by sending your comments or questions to Snow Report Forum here

Snow Report of 03/12/2004