SNOW-NEWS: Increase of temperature..
He had some snowfalling and raining.. the temperature is considerably low today ( below zero ) It will increace within the week up 5-8c above zero.
We designed Snow Report Forum where you may post your comments and questions about the Greek Ski centers and Snow Sports in general.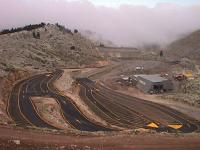 Kalavrita Ski Center wishes you a happy winter time and expects you to enjoy Helmos mountain or the Kalavrita surrounding area with or without snow.
G.Tsekouras
Director

Snow Report's member inform us that a new Snow making system at 3-5 Pigadia covering Filippos trail is being installed.

Maintenance works at Parnassos: Renewal of both end stations at Telecabine, Odysseas and Dias. Cable change of Telecabine. New parking next to Telecabine as it can be seen at the posted image.
At 26-27-28 of October the cafeteria at the base of telecabine will be open. The management and personnel of the center welcomes you and wishes you a snowy winter time!

Κινητά τηλέφωνα: You can see Snow Report while on the move: by using WAP and soon by pull MMS and SMS. WAP address http://www.snowreport.gr/wap

(Weather sources: EMY, Snow Forecast, Weather on Line, Cybex Snow Cams)
SNOWCAM NEWS
Snow cams will be in operation by the end of October
SURROUNDING AREAS
In the 'surrounding area' of the ski centers. You may find everything you need to know about accommodation, ski/snowboard rentals and service, travel offices etc. If you need further information about skiing packages in Greece please do contact us at snowreport@cybex.gr
CX NEWS
Snow Report can get updated directly from the ski centers. Already Kalavrita, Kaimaktsalan, Falakro and Pertouli Ski Area's managers use this service.
WAP:You can view Snow Report by using the WAP service at the address http://www.snowreport.gr/wap





SPONSORSHIP REQUIRED
Help Snow Report keep going otherwise our Snow Cams will end up here!
If you are interested in promoting your business through our Snow Report then please contact us by email at snowreport@cybex.gr or call us at +30-210-3617790 Snow Report of 18/11/2002