SNOW-NEWS: LIGHT SNOWFALL IN PARNASSOS

[ Snow news and ski centers management messages are not updated during weekends and holidays ]
Cloudy skies with ligth to moderate winds. The weather gets better later on. On Monday the temperature will be over zero and will be constantly rising...

Saturday night at 20:00 a carnivalesque party is taking place at the ski center of Kalavrita with free night skiing. For your transfer, Ski Buses of Klaoudatos are starting from Athens: Glyfada 16:00, Kallimarmaro 16:15, Faros 16:20, Kifisia 16:45. Return at 12 midnight. For more info and reservations tel. 010-578-1880.
Kalavrita: Last management message here
Parnassos: Last management message here
Salt lake:On Dec. 29, at Kelaria of Parnassos we met Marko Hatzikiriakaki with his coach, Panos Vais. Marko will be the only Snowboarder who will represent Greeece at Salt Lake.
The Hellenic Olympic team of Salt Lake City consists...
Alpine Skiing:Vasilis Dimitriadis, Florina, Champion of Greece for many years, Dina Koutra, Skiing Society of Arachova, born in Larisa.
Cross-Country: Lefteris Fafalis(image), Metsovo, Katerina Mpalkampa, 20 years old, Naousa.

Biathlon: Stavros Christoforidis, Drama, Despina Vavatsi, Serres.
Bobsleigh: John-Andreas Kampanis, John Livaditis.
Michael-Panos Voudouris (skeleton) if he manages to gather the necessary points at Altemberg of Germany at 25-26 Jan.
The first race is on 13 Feb. According to an interview Lefteris Fafalis, champion of Greece with many international distinctions and entry at the Olympics of Nagano, believes he will be among the 30 first. This is a very big success for Greek reality.
Mr. John Pantelidis, President of the Hellenic Ski Federation states: 'The Hellenic Ski Federation believes that now is the right time to organize ourselves, so to create the appropriate infrastructure in order to be in the position to host international athletic events at our ski centers'

(Source for the weather: Snow Forecast, Weather on Line, Cybex Snow Cams)

WAP: You can view Snow Report by using the WAP service at the address http://www.snowreport.gr/wap
The "Hellenic Society of Retired Snow Sports Athletes" has programmed two races for 2002:
24 February - Helmos - South Greece Cup
3 March - Seli - North Greece Cup
Both races are "open" for women and men, (even for non-retired athletes) of 30 years old and above.. Whoever is interested to enter may send his/her personal data at the e-mail account skimaster@in.gr
SPONSORSHIP
If you are interested in sponsoring part or the whole Snow Report then please contact us at snowreport@cybex.gr or at +3010-3617790 We will provide to you the necessary information and offers. (December: >3500 user sessions per day)
EXTREME SPORTS CALENDAR
For the friends of outdoor adventure and extreme sports. More info here.
SNOW GO AUSTRIA
Snow Report and Euroski club offer a series of great value packages for an alpine experience with ski and snowboard. Our starting point is Kitzbuhel (Tirol) of Austria, where the most ski races take place. On your left: a shot from the Snow Cam at 1825m of Topin. The existing travel offers are valid only for the visitors of Snow Report.
Snow Go Austria: more info in Greek
Kitzbuhel(Bergbahn) Ski Center
SNOW GO FINLAND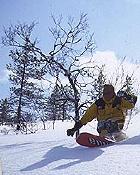 We continue our great travel offer concerning ski/snowbosrd at Finland. Remember that is your chance to see the original Santa and have a Safari with Snow Mobile or reindeers!!
Snow Go Finland
SNOWCAM NEWS
We have replaced the Snow Cam at Kalavrita with a new one.
SURROUNDING AREAS
In the 'surrounding area' of the ski centers. You may find everything you need to know about accommodation, ski/snowboard rentals and service, travel offices etc. If you need further information about skiing packages in Greece please do contact us at snowreport@cybex.gr
CX NEWS
Snow Report can get updated directly from the ski centers. Already Kalavrita, Kaimaktsalan, Falakro and Pertouli Ski Area's managers use this service. Snow Report of 26/01/2002