SNOW-NEWS: SNOWFALLS WILL GO ON THIS WEEK..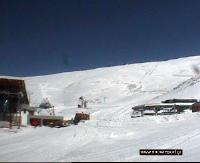 Snowfall intervals are expected for the whole week. On Thursday,once again, weather gets worse but this time with less wind. This will help the snow to stay on the slopes.
On Friday heavy snowfalls are expected by Snow Forecast, in particular at Chalkidiki!
Wherever you go, always have chains for the car with you. Pay attention to the icy surfaces. The people in charge of the Ski Centers are taking care to have the roads cleared up from snow.
At Olympos ski center skiing is free. If you are not Greek you need to get a permission from the Greek Pentagon in Athens. This is because the ski center is run by the army. For more information see at it's Snow Report!
Parnassos: Last management message in Greek here
Price list of 2001-2 in Euro
Kaimaktsalan: Last news here
Salt Lake: 6 Greeks will race.
SURROUNDING AREAS
In the 'surrounding area' of the ski centers. You may find everything you need to know about accommodation, ski/snowboard rentals and service, travel offices etc. If you need further information about skiing packages in Greece please do contact us at snowreport@cybex.gr
CX NEWS
Snow Report can get updated directly from the ski centers. Already Kalavrita and Kaimaktsalan Ski Area's managers use this service.
SPONSORSHIP
If you are interested in sponsoring part or the whole Snow Report then please contact us at snowreport@cybex.gr or at +301-3617790 We will provide to you the necessary information and offers. (December: >3000 user sessions per day )
Snow Report of 09/12/2001