SNOW-NEWS: PARNASSOS AND KALAVRITA TOMORROW IN OPERATION!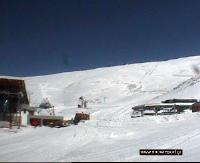 Friday's forecast calls for snowfall intervals.
If the weather allows... Tomorrow,Dec.6, the ski centers of Parnassos and Kalavrita will open. At Parnassos the snow heigh is between 1 to 3 metres.
3-5 Pigadia are already in operation. Today, the ski center of Pilio is open. The ski center of Karpenissi will open on Saturday.
On today's foto of Kaimaktsalan ski center,at Sarantovrisi on 2480m,shows a sunny day.
At the surrounding area of the ski center of Parnassos there is problem concerning the limited numbers of rooms to let. For Arahova, you can reach the office of tourism at 0267-29170.
At Olympos ski center skiing is free. For more information see at it's Snow Report─ň▀˘ň ­Űš˝´÷´˝▀ň˛ ˇ˘´ Snow Report ˘´§!
Parnassos: Last management message in Greek here
Price list of 2001-2 in Euro
Kaimaktsalan: Last news here
Salt Lake: 6 Greeks will race.
SURROUNDING AREAS
In the 'surrounding area' of the ski centers. You may find everything you need to know about accommodation, ski/snowboard rentals and service, travel offices etc. If you need further information about skiing packages in Greece please do contact us at snowreport@cybex.gr
CX NEWS
Snow Report can get updated directly from the ski centers. Already Kalavrita and Kaimaktsalan Ski Area's managers use this service.
SPONSORSHIP
If you are interested in sponsoring part or the whole Snow Report then please contact us at snowreport@cybex.gr or at +301-3617790 We will provide to you the necessary information and offers. (December: >3000 user sessions per day )
Snow Report of 05/12/2001