SNOW-NEWS: MOST OF THE SKI CENTERS WILL OPEN BY THE END OF THIS WEEK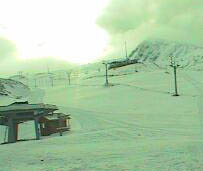 If weather permits.. Parnassos and Kalavrita open on Thu 6/12. At Parnassos the snow height is from 1 up to 3 meters.
3-5 Pigadia already in operation. Pilio starts on Tuesday. Karpenissi starts on Saturday.
At today's photo from Kaimaktsalan 2480m, you see Sarantovrysi slope under sun light.
At 19-20/11 the Olympic flame will be transported from Olympia, via Kalavrita Ski Center and Parnassos Ski Center to the Salt Lake 2002 Olympic Winter Games. The Olympic flame is a practice continued from the ancient Olympic Games. In Olympia (Greece), a flame was ignited by the sun and then kept burning until the closing of the Olympic Games.
Karpenissi: Snow Cam in operation. (look here)
Kalavrita: Snow Cam in operation. (look here)
Last management message in Greek, basically says that the center will be open for the weekends with or without snow. here
Vasilitsa: The old Chalet is being renovated and new one is built next to the old one, 600sq m. large.

SURROUNDING AREAS AND SNOW REPORTS
In the 'surrounding area' of the ski centers. You may find everything you need to know about accommodation, ski/snowboard rentals and service, travel offices etc. Snow Report of 03/12/2001